The Delta Diner features three unique food experiences here in Delta, Wisconsin. The Delta Diner itself is a throwback to the 40's East Coast Diners that spotted the roadsides and served up hot meals for travelers. We have upped the game a bit on the culinary side but have remained true to the genre of food that made these establishments famous back in the day. Taste Budz is a seasonal business located adjacent to the Diner and features Milwaukee's own Purple Door Ice Cream, along with an assortment of coffee drinks and other refreshments. The TapShack, also seasonal, is our version of a traditional Jamaican Jerk Pit serving Jerk chicken, pork, ribs, Friday Fish, all the sides, and a chill Island vibe that will belie our setting here in the Northwoods of Wisconsin. The TapShack also features eight taps of Earth Rider Brews including our collaboration with the Brewery, TapShack Caribbean Style Lager.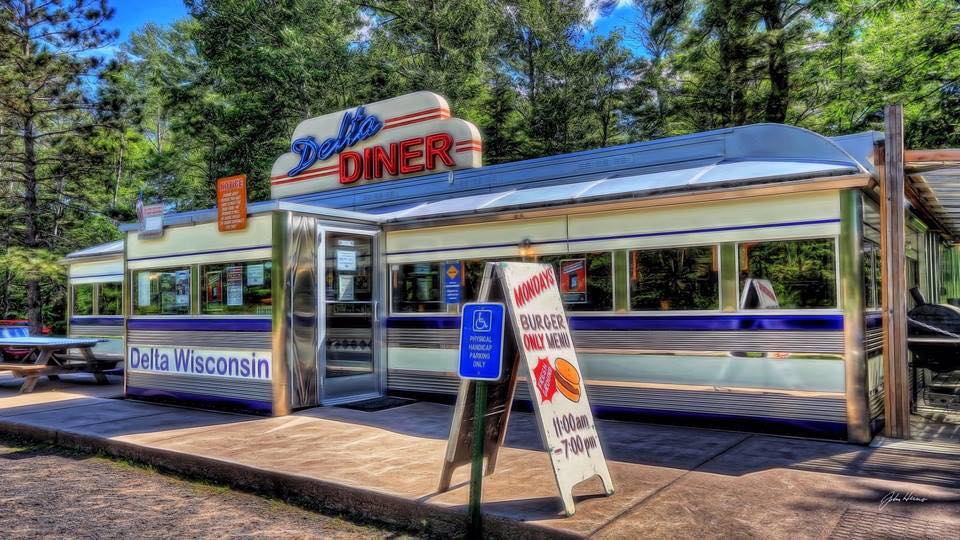 Starting May 1st, the Delta Diner will be offering limited inside seating and outside deck seating on a first come/served basis. We will also be offering a limited menu of Delta Diner classics for CurbSide pick-up. Call 715-372-6666 for CurbSide pick-up slot availability. Masks are still required to enter the diner however masks are no longer required while outside on the property. We do encourage people to respect distancing if they are not wearing a mask while outside. Thank you for your cooperation on this matter.
So, what are you hungry for?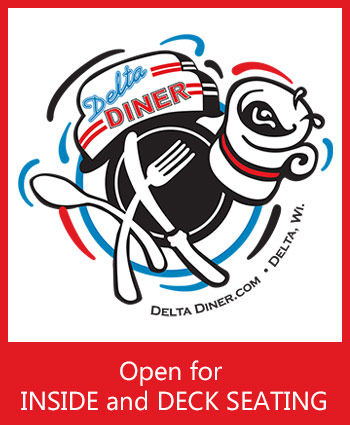 Delta Diner Hours
Burger Monday:
11 AM to 7 PM
Thursday – Sunday:
8 AM to 2 PM
Curbside Pick-up Menus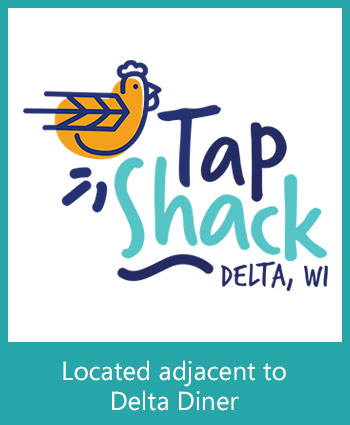 TapShack Hours
Wednesday-Sunday:
TapHouse 1 PM to 8 PM
Food 2 PM to 7 PM

CLOSED Mon/Tues
MENU
Weds/Thurs: serving Jerk Chicken Thighs w/ grilled pineapple, Spicy Jerk Pork Bites, or Seafood Fritters. These are all "bar baskets" served with side sauce.
Friday: serving your choice of Caribbean Style Steamed Lake Trout with vegetables or our Jerk Pork Back Ribs. Each includes grilled corn on the cob.
Sat/Sun: serving our "Lilliput Special" of a Jerked Half Chicken with Rice and Peas, Callaloo, and Festival Bread.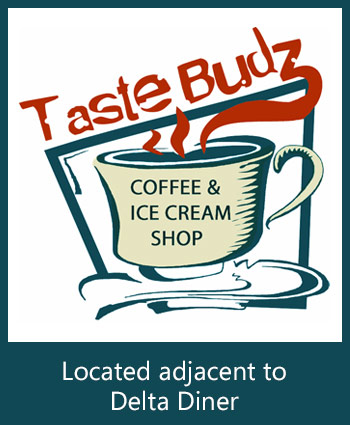 Taste Budz Hours
June 2021
Saturday & Sunday:
9 AM to 4 PM