September 02, 2012 BARRY ADAMS Wisconsin State Journal
DELTA — Todd Bucher has patience.
The former Chicago advertising and marketing executive has taught himself how to slowly fry an egg on low heat. The result is near perfection: no brown spots or streaks from an overheated grill; the white, fully cooked; the yolk, just right.
Bucher has also shown amazing patience with the maturity of his Delta Diner. The Wisconsin native knew that creating a sense of place would take time, especially when it's located in the heart of the Chequamegon-Nicolet National Forest.
"It's got to be something you can't get anywhere else," said Bucher. "We're out here, so we can be a destination."
It's more like an expedition.
The diner, a former rail car transported from upstate New York in 2003, is located on the site of the former Delta Store on Highway H, about 11 miles south of Highway 2. Superior is about 50 miles to the northwest, Ashland 24 miles to the northeast.
This is a place of all-terrain vehicles, snowmobiles, wolves and bear.
It's also a place of community where the locals, fishermen, hunters and big-city folk on vacation come to mingle.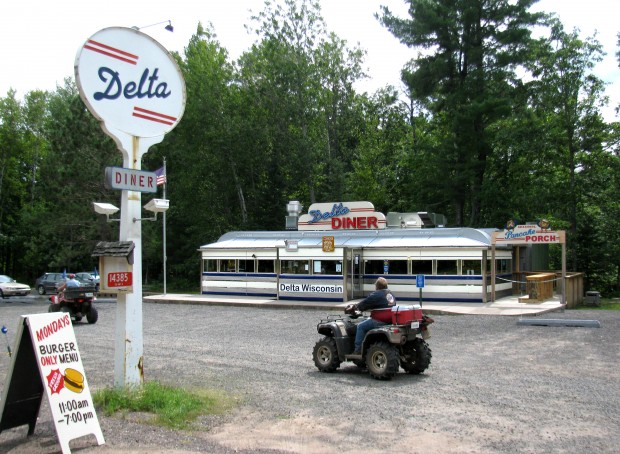 They scarf down Norwegian pancakes and omelets filled with shrimp and mushrooms or Brussels sprouts, bacon bits and leeks.
Tomatoes, like those used on my PBLT sandwich, are grown on a farm owned by the proprietors of the Namakagon Grocer in Cable.
The PBLT? That's a deep-fried perch, bacon, lettuce and tomato sandwich. And yes, it was fantastic.
Bread comes from the Ashland Baking Co. and is so popular the bakery has begun selling bread specially made for Delta Diner at its own store. The red beans and rice includes sausage made at the Sixth Street Market in Ashland.
"It's consistently good," Gina Kirsten of Washburn said of the diner. "It's quality food and supports local businesses."
Kirsten and her husband, Olaf, had driven from Washburn to the hamlet of Ino, located at the intersection of Highway 2 and Highway E, and rode their bikes about nine miles to the diner. They get to the diner, about 30 miles from their home, six to seven times a year.
"He's always working on creating new flavors," Olaf said of Bucher. "He's always working on something new."
But the fans of the diner have spoken with more than just their breakfast and hamburger money. About 20 have become partners in the diner, helping the business finance a $300,000 expansion of the kitchen and prep areas. The project, completed earlier this year, has helped reduce wait times for a table or seat at the counter to about 45 minutes on weekends. There had been days when the wait was two hours or more.
"We thought it was worthwhile to do it," Bucher said.
The project also added a pancake porch with a walk-up window to serve customers at peak times. Wireless Internet service will come to the diner in about six months. But Bucher, who wants to increase his diner's presence on social media, wants his customers to leave their laptops at home and keep their smartphones in their pockets and purses.
"This only works with people sitting elbow to elbow talking to each other," Bucher said of his diner's atmosphere. "We will actively protect that."
The Delta Store was built in 1923 by the Bayfield Land Co. and was the ultimate convenience store. It included a general store, bar, restaurant, post office, ice house and gas station. It was also a train stop for the Duluth, Atlantic & South Shore Railroad.
The store burned in 1972, leaving only a cobblestone garage that is now home to the diner's store. It sells clothing and bakery goods, including pies.
Bucher grew up in Fond du Lac and attended Ripon College before beginning a career in marketing and advertising. He later worked in Fort Atkinson for a publishing company and lived in Madison and later the village of Oregon.
In 2003, he rescued an abandoned diner from a farm field in upstate New York, had it shipped to a restoration company in Cleveland and then hauled it on a flatbed truck to northern Wisconsin.
Bucher now lives about a half mile from the diner in central Bayfield County and, after nine years, can say he and his diner are part of the fabric of the North Woods.
Employees are more than servers and cooks. They form bonds with customers, in part due to the small but constantly changing menu. Servers recite the menu to each group of customers. Parents call Bucher asking if their children can work at the diner, which serves about 1,500 people a week.
On Mondays, the diner changes its hours from 11 a.m. to 7 p.m. when only specially made hamburgers are served.
"You've got to have faith," Bucher said of his business plan. "We're really just beginning."