The Capital Times, July 2, 2005 by Mary Bergin
A dozen miles south of Iron River, off County H and inside Chequamegon National Forest, are the best Swedish pancakes around. They are thin and sweet enough to hold their own without a drenching of syrup.
"First-time customers have to sample the pancakes," joked the cook, Todd Bucher, who grew up in Fond du Lac. "We lock the door until that happens."
That is how a little pancake arrived after my order of deep-fried mac and cheese (a strange but pleasant snack). The combination of the two items is about all that I would not recommend about Delta Diner, which opened about two years ago.
Delta isn't on the state map, and that is a part of the charm. The diner creeps up quickly, a shiny and neon-bright sight that surely has earned a lot of double takes amid the acres of tall pines and miles of unmarked roads.
Todd likes being in the middle of nowhere, on this land that had long been vacant. The Delta Store used to thrive here, selling everything from fish bait to hot meatloaf, until the building burned in 1972.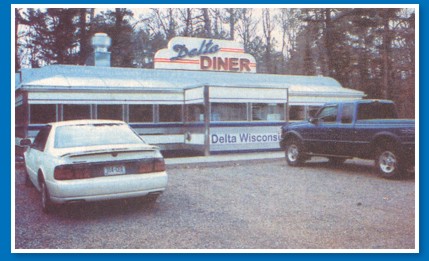 "That left a real void," says Bucher, 43, who owns Delta Diner with his wife, Nina. "The common perception was that nothing could be built here."
He is the kind of guy who would drive 40 miles out of his way to get to a good diner, and believes that others would do the same. "It's a different feel than a restaurant," he says, and he seems to thrive on those dynamics. Crowds are fine, he says, but the trade-off is that there is no time to get to know your customers.
When you belly up to the counter for lunch, it's suburban tourist next to local laborer, Ph.D.s sharing a coffeepot with folks making minimum wage. They're likely to end up talking, and Todd sees great value in that.
"There's some good karma going here," he says of the intimate, 38-seat dining area. During peak business, it can be an hour wait for a seat, then another 40 minutes to get fed.
Todd is a former advertising/marketing guy who worked for outdoor magazines until deciding to seek a simpler life. Nina operates Taste Budz, a coffeehouse and deli in Iron River.
"We're trying to build this business on word of mouth," he says.
The menu is both diner fare and atypical. Yes, breakfast is a big deal. All the standard choices are there, plus Mexican Eggs Benedict on Thursdays (two eggs over cornbread and covered with a chipotle sausage sauce). The Greek omelet recently came off the menu ("it takes 26 steps to make"). The Delta Hot Cakes should be taken literally (they have jalapenos).
There are blue plate specials that sometimes include Wild Rice Turkey Casserole or Cajun Red Beans and Rice. Chili is a specialty, but it's a sea of white – no tomatoes. The desserts? Among the signature pieces: a dense banana cake with chocolate frosting, and Swedish cream with fruit.
The frame of this 1940 Silk City (the manufacturer) diner was broken down and in New York when the Buchers bought it. Most of the rebuilding was done in Ohio; then the structure was hoisted onto a semi-trailer and driven to remote Bayfield County.
Todd calls it the last undeveloped part of Wisconsin. "Check out the canoeing on the White River," he tells a couple of honeymooners. "It's not fast water, but there are a lot of curves."
To learn more about Delta Diner, go to www.deltadiner.com/cfweb or call 715-372-6666.